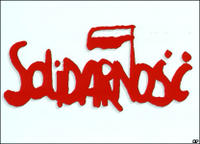 How cool is this? The union organizer who led the Solidarity movement (that later toppled communism) in Poland is coming to town.
Lech Walesa
, former president of Poland and 1983 Nobel Peace Prize winner, will speak at San Diego State University at 10 a.m. Friday, April 28 in Montezuma Hall in Aztec Center. He will speak on "The Future of Democracy in the Era of Globalization." The
lecture
is free and open to the public.
Assuming that I make it to this lecture, Lech will join Madeleine Albright, John Kerry, Hillary Clinton, and Maya Angelou as people whose lectures I've attended. The best part — I've seen each person during work hours.